Our plants
Fatland is located both in Ølen, Sandnes, Oslo and Sandefjord.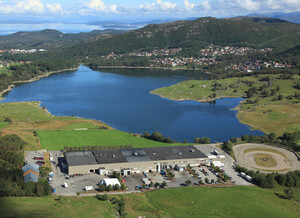 Fatland Jaeren AS
Hommersåkvn. 250, 4311 Hommersåk, tel. +47 51 68 21 00.

Fatland group's largest slaughterhouse.

The plant is also the largest private slaughterhouse in Norway. It is right in the middle of Jæren, Norway's main meat region. Here we slaughter cattle, pig and sheep/lamb. There is also a modern deboning department mainly for cattle, but also sow and sheep/lamb when it's the season.
The plant has been expanded many times in the later years in order to increase the production capacity.
Fatland Jæren gets slaughter from Grimstad in the south, Setesdal in the east, Randaberg in the west and Ryfylke in the north.
Managing Director
Terje Wester
Employees
110
Turnover
NOK 1,450 million
Slaughtered
14,400 tons
Deboning
17,000 tons
Efta number
117

Fatland Ølen AS
Pb. 241, 5588 Ølen, tel. +47 53 77 55 00.

Fatland's largest plant and most diversified activities.


Fatland Ølen slaughters cattle, pig and sheep/lamb. The plant has a cutting section mainly for pig and sheep/lamb. The plant has also a production department where all the minced meet products are produced. As well as bacon, meat cake products, schnitzel, consumer packed meat and pet food.
Fatland Ølen was built in 1974 and has since been expanded and modernized several times. After Fatland Bergen was shut down in the beginning of 2001, the quantity of slaughter in Ølen has increased, and the slaughterhouse now picks up slaughter from Hjelmeland in the south, Karmøy in the west, Telemark in the east and Sognefjorden in the north.
In the last years, the Fatland Ølen plant has been expanded with the building of a new Distribution Hub for the Group where we dispatch on daily basis products to 700 shops. The processing area has also been expanded and new machinery for production and packing acquired.
Managing Director
Svein Fatland
Employees
300
Turnover
NOK 2,200 million
Slaughtered
10,000 tons
Deboning
18,000 tons
Processed
20,000 tons
Efta number
141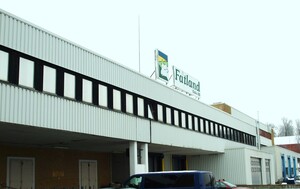 Fatland Oslo AS
Prof. Birkelandsv. 30 A, 1081 Oslo, tel. +47 23 17 63 50.

Our slaughterhouse in the eastern region of Norway.
Fatland Oslo slaughters and debones cattle, pig and sheep/lamb. The plant also sells meat from other private slaughterhouses in the region.
Fatland Oslo is the only slaughterhouse in the city of Oslo and the plant that increases most the number of pork killings per year in the Group. The plant was bought in 1983 from Oslo Kjøttsenter (Oslo Meat Center), which was the starting point for today's plant in Furuset, Oslo.
In 2004/2005, the plants learage and slaughter hall were largely expanded, and were ready for use in May 2005.
Managing Director
Ståle Fatland
Employees
90
Turnover
NOK 800 million
Slaughtered
11,500 tons
Deboning
10 561 tons
Efta number
160

Fatland Sandefjord AS
Fatland Sandefjord AS
Fokserød, 3241 Sandefjord, tel: +47 33 48 52 00
Skjeggerød AS
Fokserød, 3241 Sandefjord, tel. Salesoffice +47 33 48 52 20

Good meat products made of Norwegian and international traditional recipes'. The company supplies to consumers all over the country.


A modern meat industry company with competence and innovation spirit. These were the elements that made Fatland Group buy this plant in Sandefjord - in order to guarantee that meat from our producers would have access to meat counters throughout the country.
A fully modern production plant was built in 1985 next to the highway to Sandefjord in the Vestfold region. It was important to be close to the market as much as possible. Today the area is quite attractive since the nearby Torp International airport.
The plant's main products are sausages and cooked hams which are sold by our sales company Skjeggerød AS with the SKJEGGERØD trademark and/or supermarket own brands.
Fatland Sandefjord has 130 staff members. It has supply agreements throughout the country with Norway's two largest supermarket chains: NorgesGruppen (Spar, Meny, Kiwi, Ultra) and COOP-NKL (Prix, Mega, Obs!) and many other good clients. The company also sells to the HORECA sector.
Since 2002, the Sandefjord business has been divided into two companies:
Fatland Sandefjord AS is the industrial company with main production of sausages and cooked hams.
Skjeggerød AS is a joint sales company for the industrial companies in Fatland-Skjeggerød group. Under Skjeggerød AS we have a sales team of over 30 people attending shops all over the country.
Our processing facilities in Sandefjord
Managing Director
Bjørn Bredesen
Employees
150
Turnover
NOK 400 million
Processing
5,500 tons
Efta number
307
Fatland Ull AS

Fatland Ull AS receives wool from the whole country.
Fatland Gjestal Ull AS receives wool from the whole country. Our job is to receive, classify and sell the wool that is sent to our wool stations. Our three wool stations handle around 25% of the country's total wool. After the wool is sorted and the farmer has been paid, the wool is sold to both Norwegian and foreign woolen goods factories.
Fatland Gjestal Ull AS was established in 1993, after the monopoly on wool was repealed. This is a company owned by Fatland AS and ASA Gjestal Spinneri, each with 46,4 %, and three minor owners.
Manager
Anders Nertoft
Employees
10
Turnover
NOK 10,2 million
Classified wool
11,000 tons
Efta number
160
Established
1991
Fatland Hud & Skinn AS
Hommersåkveien 250, 4311 Hommersåk, tel.+47 55 32 48 00/+47 90 05 55 36, E-mail: Anders Nertoft


Fatland Hud & Skinn AS  processes and sells Norwegian hides and furs on the national and international market.
After delivering their hides and furs to established wholesalers for many years, and since it was quite a big private business, Fatland decided to establish its own wholesale business in 1991. After more than 15 years in business it has proven to be the right choice.
Today the company processes and sells all hides and furs from their own slaughterhouses, as well as from other associated private slaughterhouses.
The company has built up a good reputation on an international competitive market and the company's goals and guidelines are quality and being able to deliver.
The company has production facilities and warehouses in Fatland Jæren AS and Fatland Ølen AS.
Manager
Anders Nertoft
Employees
4
Turnover
NOK 34 million
Established
1991
Fatland Miljøfôr Vest AS
Tel. +47 52 84 30 45/+47 92 29 30 32, E-mail
Fatland Miljøfôr Vest AS produces animal feed.
Miljøfôr Vest AS produces animal feed (wet feed for pigs) and delivers to clients from Bergen in the north and Jæren in the south. The company has one production unit on Karmøy (West-coast of Norway) and a raw material department in Bergen.
Animal feed is good pig feed in terms of cost-benefit.
Contact can also be made through Fatland's slaughterhouses and advisory service.
Manager
Jostein Mikalsen
Employees
1
Turnover
NOK 30 million
Established
1991
Publisert 06.10.2015 kl 07:58
Oppdatert 14.03.2017 kl 12:40